Cristiano Coraggio
Italy - Independent
Cristiano Coraggio starts playing the drums at the age of four, and in 2008 obtains a diploma at the University of Music in Rome (mark 9/10).
During his studies he meets some of the best Italian and foreign teachers, deepening his understanding and knowledge of the instrument. He specializes in his studies with Gianni Di Renzo, Maurizio Boco, Ettore Mancini, Roberto Baruffaldi , Stefano Moratti, Ezio Zaccagnini, Maurizio Dei Lazzaretti (…). Later on he takes a special interest in the study of African percussion instruments, with the teacher Mollah Omar Alibou (djembe, dun dun, sabar and tama), and of Brazilian percussion instruments with the teacher Stefano Rossini.
In the Autumn of 2009 he starts a three-year degree course in 'classical percussions' with the teachers Antonio Caggiano and Carlo Di Blasi at the Conservatory 'L. Refice' and specializes in jazz music with Ettore Fioravanti.
Since 1994 on, being on tour around Italy, he has the opportunity to experiment with different groups and genres, such as the Synphonic Orchestra of the city of Sora, directed by the conductor Francesco Trio; Free Time Jazz Band directed by the conductor Francesco Merolle; XVIII Recanati Prize (RAI) with the musician Enzo Carella. He plays in the group of the fellow-citizen Anna Tatangelo, taking part in several contests for young talents; co-founder of the Ska-Reggae group Gibboska, he plays up to 2007 winning the prize for 'best music' at Pofi Rock Festival; he plays with the band Legittimo Brigantaggio until February 2009 and he records as guest star the CD 'Il Cielo Degli Esclusi'. He plays African percussions with the group Africa Macumba, an ensemble of African percussion instrument players (2005/06). He plays in the group Trio Jazz with Roberto Censorio and Giovanni Mancini, and with the Ciociarian Brass Band (Conservatory 'L. Refice'); in 1999 and 2000 he plays in the Band of the 1st Regiment Sardinian Grenadiers.
Since 2012 he is the only teacher of drums in the Masterclasses organized during the Alatri Jazz Festival. In the summer 2011 he wins the first prize for jazz with the Bartleboom Duet during Filettino Jazz, Modern and Classic Festival, directed by the chairman Paolo Tombolesi. He plays as Endorser Vibe Drum at DISMA 2010.
In 2011 he plays as guest and Endorser Vibe Drum at Joe Morello Tribute (TO). In 2011/12 he plays in Piazza S. Carlo (TO) as guest during the Turin Marathon. In 2012 he takes part in KOSA Italy together with Aldo Mazza, Dom Famularo, Liberty De vito, Sergio Bellotti (…) Then he devotes to teaching in his private school and he collaborates with different organizations and schools of music. In 2006, together with the LEA, 'Laboratory for Environmental Education', he is organizer and teacher of the project 'Listen to the World' for Primary Schools. In 2011 he becomes didactic director and owner of the prestigious G.M. Drum School for Lazio, a National Drum Academy directed by Gigi Morello, where he currently teaches drums and percussions. In 2013 he writes educational articles for Drumset Magazine, plays in Mauro Bottini 4et and collaborates with the percussionist Jack Tama
Photos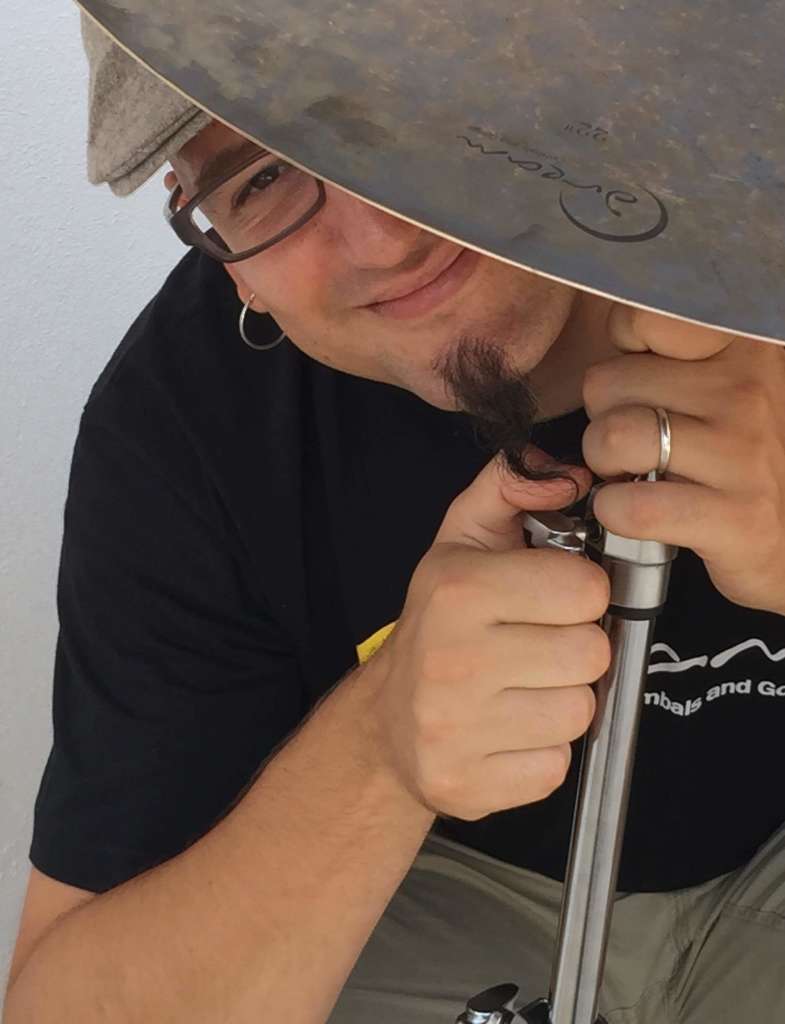 Share