James Hicks
UK - CoCo and the Butterfields / Independent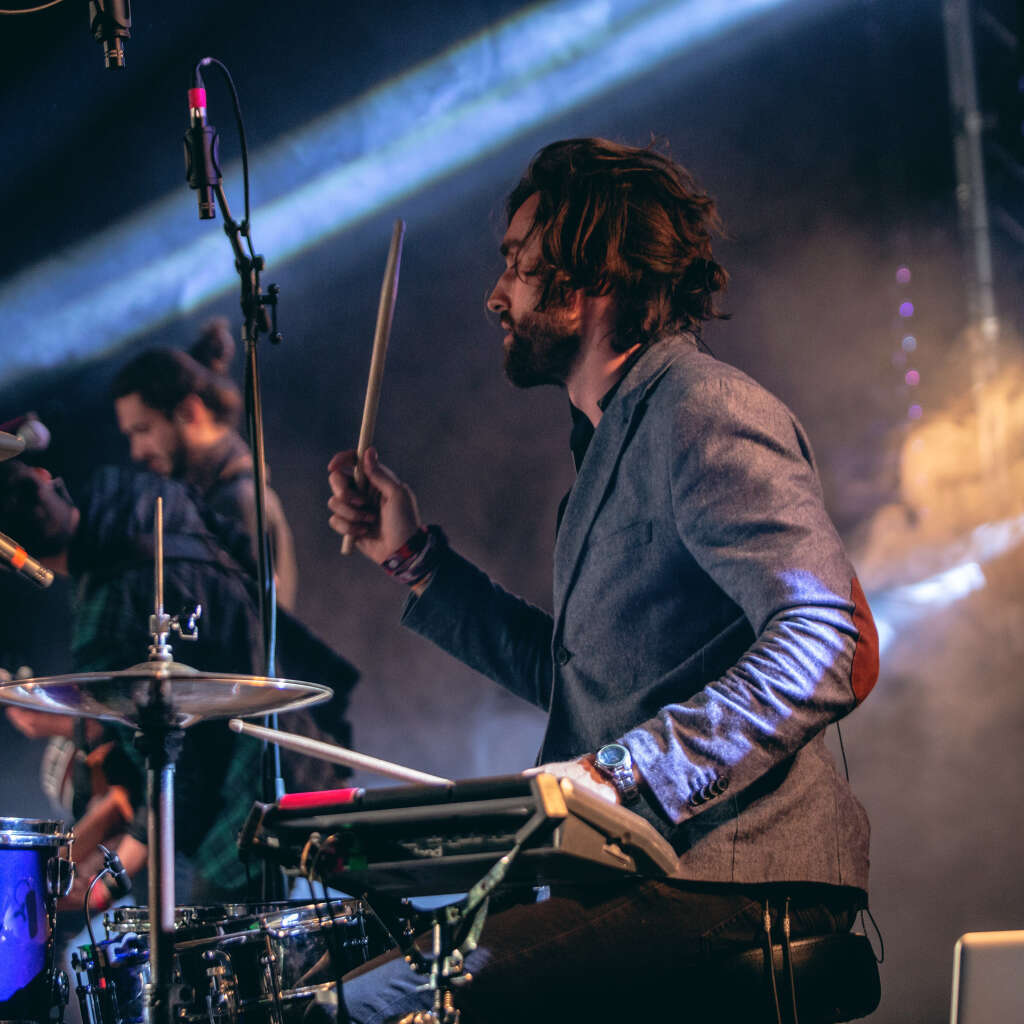 I began drumming at the age of 11 and received lessons at school through all of my secondary school years (ages 12-18).
During this time, I took two graded exams, grade 5 and grade 7, for which I achieved a merit in both.
I played as part of the school big band on occasions, but always found more enjoyment in locking myself away at lunchtimes with the few musicians in the school who were into the 'heavier' side of music – We'd just jam over riffs all lunch until the head of music would hammer the door down and send us packing.
After I left secondary school (in 2008) I was set to attend Warwick University to study General Engineering and was offered a scholarship by the university to do so. I took a 'Year in Industry' to work at an engineering firm before attending the course, and in that time started my first serious band 'Underline The Sky'.
By the end of that year we were selling out all the local venues we were playing and I'd caught the bug – I phoned the university and asked if I could defer my placement (much to the dismay of my family), to which the university, amazingly, agreed, and I gave myself a year to work at music to see what would happen. The following summer the band won the 'Road To V 2009' competition, and played the 4Music stage at both sites of V Festival 2009. At this point I knew there was no way I could do anything with my life except music. It didn't matter what it was, I was going to make music work for me. I called the university, cancelled my placement, and began working dead-end jobs while I tried to work out the music thing.
For the following five to seven years I recorded countless tracks, played hundreds and hundreds of shows with that band, joined, depped in, sessioned for, and recorded for other bands along the way, and while I was at it, I became a well-established and touring live sound engineer.
By 2014 I'd managed to quit all my dead-end jobs and was working solely in music. I'd started a 50s rockabilly band called "J.S & the Lockerbillies" with an old friend of mine, because my parents needed a band for their anniversary party. Rather than hire one, we just learnt a set and started a band. I was now living solely from either drumming or live sound engineering, and it was absolute bliss. It was the most exhausted I'd ever been (boy, I didn't realise how much more exhausted I was going to get!) but it was just phenomenal.
During the period of 2013-2015 a band called 'CoCo and the Butterfields' came through the venue I mixed FOH at every Friday night. After the third show I asked if they needed a touring sound engineer – They said yes, they sent me through a hundred or so dates for the rest of 2015, I said yes and off we went!
2015-2017 I spent heavily touring as a FOH engineer with CoCo and the Butterfields (I actually moved from Suffolk down to Kent to live in the CoCo band house), or as a monitor engineer with New Purple Celebration (called Purple Rain at the time). In between those gigs I was then doing other live engineering work for Synergy Audio Engineering, or independently, or playing drums with J.S. and the Lockerbillies.
Amusing side note: When I was at Glastonbury in 2015 mixing FOH for CoCo, I ended up playing drums for the Thomas Ian Nicholas band (Thomas Nicholas is the actor who played Kevin Myers in American Pie. I actually had no idea who he was at the time, and still didn't until after we'd finished the show hahaha). A friend of mine put out a tweet saying they needed a drummer for a set that evening, and as I was already there I thought, heck, why not! – I borrowed a load of gear from the guy who was running the stage they were playing on, and with no rehearsals whatsoever, played a 45 minute set at Glastonbury hahahahaha. That's definitely the most rock 'n' roll thing I've ever done! Even better – The guy who ran the stage was so amused by what was going on, he asked CoCo to come and play a set on his stage the next night. So I came back and mixed FOH on the same stage to a packed out tent!
Since 2012 I had also been learning how to work in the studio realm. So in the winter of 2016, I helped CoCo turn the top floor of the band house into a home studio. I then began engineering all the records for the band and have done so ever since. In 2017, after the session drummer they were using for live shows wasn't able to make a tour the band had booked, we made the decision for me to change to drums, and to hire in a new FOH engineer instead.
From 2017-2020 I have been drumming for CoCo and the Butterfields, on tour and in the studio, and engineering all their records in our home studio. CoCo always have an extremely heavy festival touring schedule, and the list of festivals the band has played is almost endless. To name a few: Glastonbury Isle Of Wight Bestival Beautiful Days Belladrum Colours Of Ostrava Cropredy The Long Road Fest It goes on..
In the spring of 2019 CoCo went on an O2 Academy tour around the UK as main support to the phenomenal US band Blue October. This was followed by a sold-out headline tour in the smaller capacity O2 Academy 2/3 venues in winter 2019.
In the summer of 2019, amongst all the festival touring we were already doing, we even managed to squeeze in setting up and running our very own festival called FoundTown!
This was supposed to run it's second year in 2020, but sadly got cancelled due to the current world climate.. Every winter we travel out to the French and Suisse alps where we play après and evening ski resort shows, playing to thousands and thousands of people over the course of each season.
In the 2019/2020 season we were in the Suisse Alps when the lockdown came into place. The town we were in 'Zermatt' was one of the first places in Switzerland to go into official lockdown, and we were bundled up and sent home a few days later.
When we got home, we realised we had to very quickly adapt, as all the musicians in the band all live solely from music. We spent the next 48 hours working tirelessly to work out how to set up a way of live streaming the full band in HD quality from our studio so we could continue playing live shows.
Since the middle of March, we have been live streaming 2-3 times per week, and this is now our sole income. At the end of October, we FINALLY have our first run of (sold-out whoop whoop!!) socially distanced live shows. We cannot wait!
Side note: In the years from 2017-2020 I also depped, sessioned and engineered for multiple artists including, but not limited to, Renegade Twelve, Gentlemen Of Few and, technically, having left by this point, my old band Underline The Sky.
Photos
Links
Share