Brian Kantor
Fruit Bats / Independent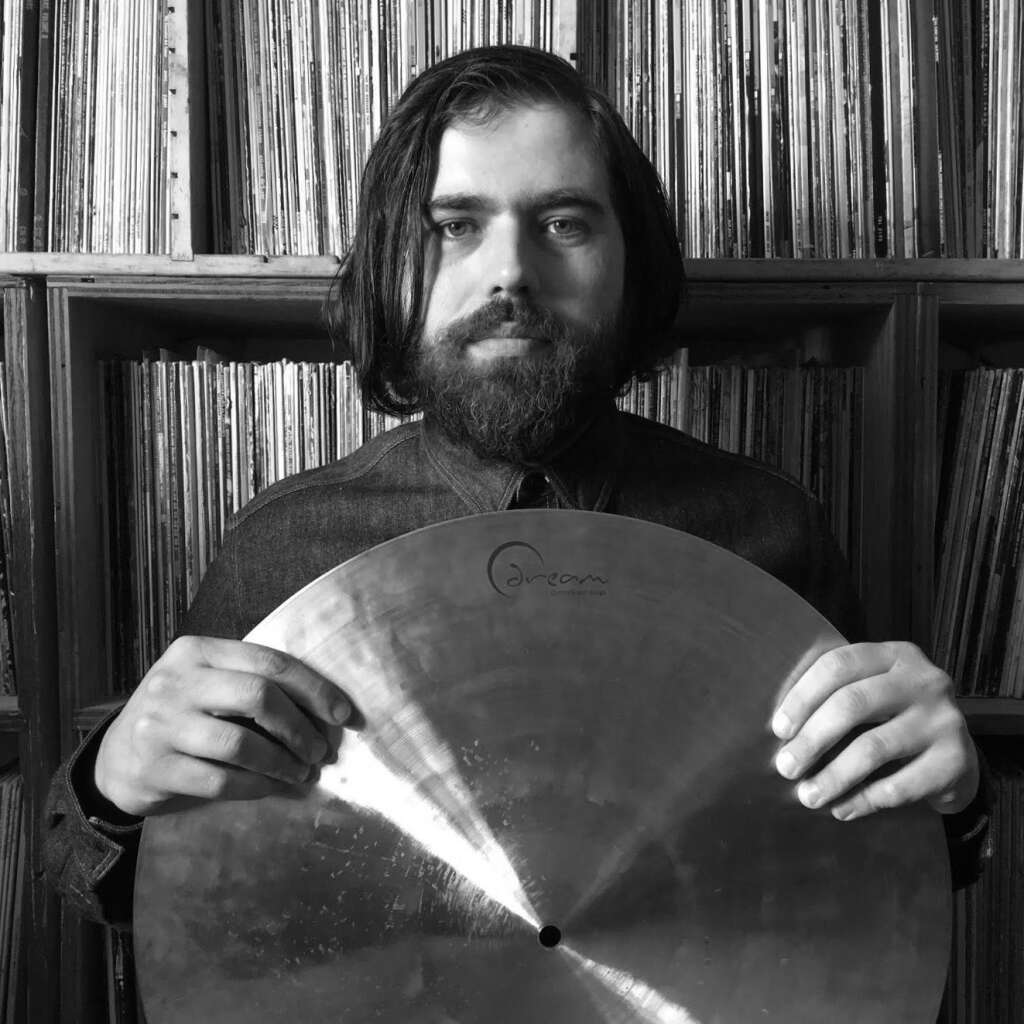 At a fairly young age, I would wake up before my folks, sneak out into the front yard, and sit on the curb.
The men of my neighborhood would be getting their day started, my job was to serve as a tiny, friendly, one-man valedictory committee, in footy pajamas.
Me: "Hi Joe! Going to work?"
Joe: "Yes."
Me: "Have a good day!"
I'd then issue a big wave goodbye, and the gentlemen of Antler Lane would begin their journey toward the workplace.
It went on like this for what seems like months, until Mom got a call from a neighbor asking if she knew about my morning time business, she hadn't. That's when Dad installed the top lock on the front door, it was far out of reach, my AM send-offs curtailed, I was forced into an early retirement.
Then, my folks bought me my first drum kit for Christmas! I became obsessed with drumming, and went on to play with:
Milt Hinton - Legendary jazz bassist visited my High School, left a big impression on me.
Paul Rodgers (Bad Company) - In my father's friend's basement one night, we played Bad Co hits: Bad Company, Hot Blooded, Feel Like Makin' Love, Rock 'n Roll Fantasy, Running With The Pack, All Right Now, I was fourteen, pretty hilarious now.
Allan St Jon - Keyboardist on Billy Squier's, "The Stroke!" We played Bald Hill Amphitheater, in support of Leslie West, of Mountain.
John Ford - Of The Strawbs, one degree of separation from Rick Wakeman!
Victor Wooten - Halfway through the semester at Drummer's Collective, I learned that the bassist I had played with on a near daily basis in my Rhythm Section class, was Victor Wooten. He's such a badass on the 4-string Fender P!
Higgins - Some of my closest musical comrades, we're still kicking, hard at work on our 5th LP.
Rocketship Park - The music of songwriting/guitar whiz, and best pal Josh Kaufman.
Benji Cossa - Pop gems for a Bygone Era.
The Two Man Gentlemen Band - I've had the pleasure of making several records with these fellas, and joining up for the odd tour here or there, most notably opening shows for Bob Dylan, Willie Nelson, and John Mellencamp!
Vetiver - Most excellent, Diamond Studded Folk Pop on SubPop Records. I toured with Andy Cabic, and co. for the better part of two years. Opening shows for Fleet Foxes through Europe!
Lauren Ambrose & the Leisure Class - One of my favorite musical projects, 30s era, hot-jazz with an A-Team of wonderful musicians. You may remember Lauren from HBOs Six Feet Under.
The Lucky Five - Many of us from The Leisure Class splintered off and kept that right tickin' rhythm going. Look for us up in the beautiful Berkshires.
Fruit Bats - We're gearing up for a run of shows opening for My Morning Jacket! Also about to start work on a new LP, exciting times for a newly reformed Fruit Bats. Check out all of their other records, on SubPop!
Yellowbirds - Sam Cohen, of Apollo Sunshine, asked me to join Yellowbirds, in support of the 1st YBs LP, "The Color," I eagerly agreed, and have thoroughly enjoyed the ride ever since. Sam makes some of the most dreamy, psychedelic rock music one can imagine!
The Well-Informed - Purveyors of Golden-Tone Pop, and my closest Table Tennis pals.
Defibulators - Rebel hillbilly country from Brooklyn. I've been serving as a backup drummer for The Defibs for quite some time now, I'm always pumped to hit the road, and play some furious train beats with them.
Nina Persson - I had the pleasure of working with Nina on her debut solo album, Animal Heart, then the subsequent pleasure of touring Scandinavia, Europe, and the US, in support of the record. She's become one of my favorite people to play with, and simply one of my favorite people.
EDJ - A beautiful album by Eric D. Johnson of Fruit Bats. I take any chance I can get to make music with my pal, Eric.
Nathan Larson - I met Nathan while working on Nina's LP, we hit it off, and immediately got working on other projects, including the soundtrack for God's Pocket , and a soon to be released LP, La Bas. Nathan was the guitarist for Shudder to Think!
Paul Loren - Soul crooner extraordinaire, and international man of Leisure.
Paul Brill - A wonderful songwriter, who many years back turned his talents to scoring films. I'm always excited to get the call, and to work again with Paul. His scores are beautiful and adventurous.
The Hot Sardines - NYC traditional jazzers!
Chris Buckridge & The Last Friend - I met Chris through the Balthrop, Alabama crew, and forged an immediate bond based upon laughter. The Last Friend, as a trio, was one of the mightiest formations I've known.
Ken Beasley - Catchy, adventureous three minute pop songs in trio format. We will play Philly soon!
Julia Stone - Australian singer, 1/2 of the duo, Julia & Angus Stone.
Marshmallow Coast - Andy Gonzales, a member of the Elephant Six Collective, in Athens, Ga. I worked with Andy on Seniors & Juniors Strikes Back.
Blake Hazard - Check out Blake's beautiful record, The Eleanor Islands, lovely. Blake was once a member of The Submarines.
The Combine - Pedal Steel fueled, etherial reworkings of classic pop tunes, does Debussy count as a pop artist?
Balthrop, Alabama - Everybody's favorite band/city in Alabama.
Kristin Mueller - Kristin and I have worked together in one capacity or another for over a decade now, she's since turned her attention to the drum kit, but whenever she picks up a guitar, I'm there.
Volga Volga - Beautiful cyclical beauty.
Alexa Wilding - Bewitchingly beautiful music.
Music for Aardvarks - It's for the kids!
The Morning Pages - My first country band, also the first band I toured with.
The Glass Trees - Music from the mind of one of my close pals, Shaun Towey. It's been years since we made the record, I hope we'll get another going.
The Unsacred Hearts - Furious punk-ass grooves, with Dylanesque lyricism.
John Biz - I played some of my hardest, loudest drums with JB. We also spent ten days recording with Steve Albini, incredible!
Photos
Share